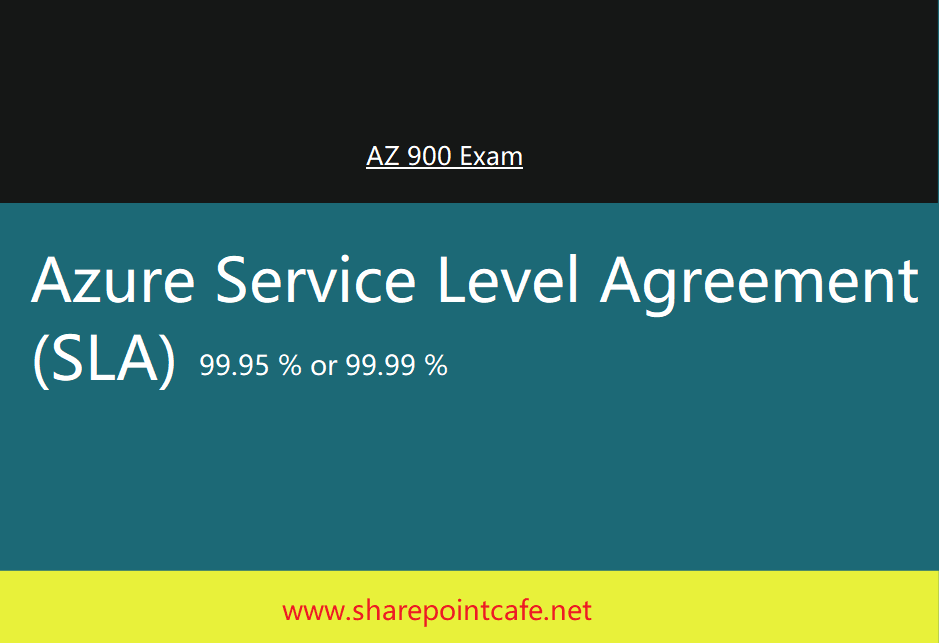 This article explains about Azure SLA for uptime and connectivity. If you are preparing for AZ 900 certification then this article is for you because Azure SLA is an important part of AZ 900 exam module.
SLA stands for Service Level Agreement. It is an formal agreement between service provider and customer.
Azure Cloud provides a set of SLA based on various parameters applicable for Azure services.
What if SLA doesn't meet with promised SLA?
Azure gives a service credit in case it doesn't meet the agreed SLA.
If < 99.95 % then 10 % amount is credited.
If < 99 % then 25 % amount is credited.
To receive service credit, you must submit SLA credit request.
Note: Free service, Private Previews and Public Previews do not have an SLA.
How to calculate uptime?
Use below formula to calculate Monthly uptime %.
Monthly uptime % = (Maximum Available Minutes - Down time)/(Maximum Available Minutes) * 100
In case Microsoft is ending a support then, Microsoft will provide a 12 months notification prior to ending support. This doesn't include Free service or preview releases.
Microsoft gives 30 days notification for a security update to apply.
How to calculate SLA?
Microsoft recommend various parameters to increase the SLA. But before that how to know what is SLA of my Azure services.
Suppose you have a VM instance with SLA 99% and a Database with same SLA i.e. 99%
Then total SLA of Azure service = 0.99 * 0.99 = 98 %
So, the more services you have the lesser SLA you get.
How to Improve SLA?
Improving SLA is good for your customer and directly it is good for your bsuiness.
There are few factors that can improve SLA.
Don't use free tier product, as they do not have any defined SLA.
Deploy 2 ore more VM instances into 2 or more availability zones to get 99.99% availability.
Choose right service as per your need.
VM instance with premium SSD or Ultra disk gives much better SLA than standard HDD.
SLA for Virtual Machine Scale Sets
VM Scale set is a free Azure service, and do not offer a service credit for this. However, If VM Scale sets includes Virtual Machines in at least 2 Fault Domains, the availability of the underlying Virtual Machines SLA for two or more instances applies.
Azure Service Lifecycle
Every service or product follows some phases or has a lifecycle.
Similarly, service release by Azure follows below lifecycle.
Private Preview – It is an evaluation purpose release for a specific customers. You need to apply for using Private Preview. This release do not follow any SLA.
Public Preview – It is available to all the Azure customers and it also has no defined SLA. Public Preview is not recommended for production or any critical business application.
General Availability – This release is available to all customers and follow SLA as well.
If you are preparing for AZ 900 certification, then follow this link - Microsoft Azure Fundamentals (AZ-900) Certification Sample Questions
For more information about Azure SLA, please visit this link – Service Level Agreements – Home | Microsoft Azure
Hope you like this blog.
Please follow and like us: