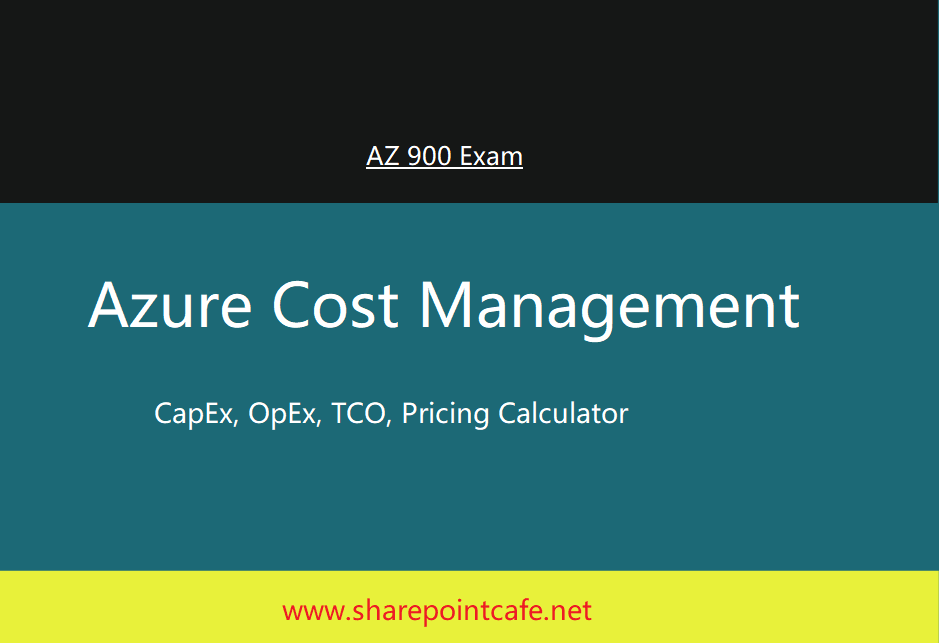 Azure provides full set of cloud cost management capabilities, which includes tool in your Azure subscription to get more value out of the cloud and implement financial governance in your organization.
This article is mainly focused as per AZ 900 exam.
Expenditure Model
Capital Expenditure (CapEx)
CapEx is a money investment to purchase infrastructure in your organization.
you need staffs to manage the infrastructure or data center. Basically, CapEx is a money investment by an organization to acquire/ update/ maintain physicals assets such as data centers.
Examples of CapEx are Physical data center for on-premise, Azure Reserved VM instances, Server Cost, Storage Cost. Network cost, Technical Personnel
CapEx are non-recurring and benefits over a long period of time.
Q. Azure pay as you go pricing is an example of CapEx ?
Answer – No, It is an example of OpEx not CapEx.
Operation Expenditure (OpEx)
No upfront cost included in OpEx instead you pay money to use a service or product.
OpEx is mainly an investment by an organization to run their daily business needs. The more you use, the higher the charges you pay.
OpEx includes Leasing software, auto scaling charges, Water bill, electricity bill, Azure pay as you go service.
Price Model
Azure offers mainly 2 types of Pricing models.
Consumption Based- Azure charge you for what you use and not for what you rent. For example – Azure Function
Fixed Price- You charge for renting an Azure service does not matter they are being consumed or not. For Example – Provisioning VM instances, App services
Total Cost of Ownership Calculator (TCO)
TCO helps us to estimate the cost savings you can check by migrating your workloads to Azure.
The estimation happens in 3 different steps –
Define Workloads – Define your workloads of on-premise infra
Adjust Assumptions – This is based on industry and geo-location. It includes Electricity cost, IT Labor cost, on-premise hardware cost, on-premise software license cost
3 View Report – This section describe the comparison between On-premise and Azure based on Timeframe for example 1 year, 2 years …. 5 years
Azure Pricing Calculator
It helps you to configure and estimate the costs for Azure services. For example – VM instances, storage account, Azure SQL DB, Azure Cosmos DB.
To estimate the pricing, go to this link – https://azure.microsoft.com/en-in/pricing/calculator/
Cost affecting factors
As like other services, Azure also have multiple factors which can affect the your billing/ invoice amount.
Below are the cost deciding factors in Azure-
Resource Type – It means what resources you want to use with what kind of configuration. For example – Storage, VM Types, CPU etc.
Azure Marketplace – It's a vendor products so in this case vendors decides the cost.
Azure Regions – Service cost may vary from region to region.
Data Transfer – How much data transfer you are doing in your billing cycle, that can affect your invoice amount.
Data Transfer Cost
Inbound data from on-premise to Azure is free
Outbound data from Azure to on-premise is not free
Data transfer between same Azure region or same availability zone is free.
Data traffic between different Azure region or different availability zone is not free.
Additional Azure tools
Below are some additional Azure tools that aren't a part of the Azure Cost Management.
However, they play an important role in the cost management process.
Pricing Calculator – Use this tool to estimate your up-front cloud costs.
Azure Migrate – Assess your current datacenter workload for insights about what's needed from an Azure replacement solution.
Azure Advisor – Identify unused VMs and receive recommendations about Azure reserved instance purchases for best cost optimization.
Hybrid Benefit – Use your current on-premises Windows Server or SQL Server licenses for VMs in Azure to save.
Important point about Azure Costing
Azure Cost management helps use to analyze and optimize their billing.
Always estimate cost before you do any deployment on Azure.
Always stop resources when you don't need them, it can save your money.
Try to use managed services like IaaS, PaaS.
Choose Azure regions as per your business and organization standard.
Select your CapEx and OpEx.
If you are preparing for AZ 900 certification, then follow this link - Microsoft Azure Fundamentals (AZ-900) Certification Sample Questions
Hope you like this article. Please share the blog link within your techie group.
Please follow and like us: