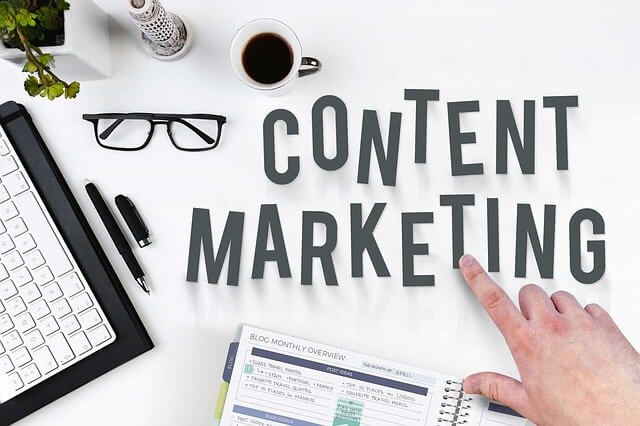 What is the purpose of content marketing in your opinion? To me, it is to convince and convert your customer. The ever-elusive content marketing strategy is a proven and meaningful method of boosting the results.
The valuable and relevant content not only improves your online reputation but advocate your brand as well. It also helps your website to rank higher in search engine like Google.
These statistics represent how powerful and effective this strategy can be:
97% more backlinks
434% more indexed pages on search engine
55% more traffic
5 times more leads
13 times more likely to generate ROI
All this at 62% less cost than traditional marketing methods.
Read this - 11 advantages of Digital Marketing over traditional Marketing
Content creation and content marketing strategy
Content marketing is not just creating content and describing your products or services. It is much more than that.
It is an entire strategic approach that allows you to engage and attract your audience to generate a clear profitable customer action.
Elements of Content Marketing Strategy
An effective content marketing strategy consists of four core elements:
1. Strategic planning:
It's all about specifying the targets. What is your audience base? How will you deliver your content to them? What is your targeted result? And how will you achieve and measure them?
2. Positioning
Why is your brand unique? What makes it a better choice over your competitor's brand?
3. Value proposition
How do you stand out in the crowd of competitors? What value your content offers them?
4. Business case
What is your ultimate target? What goals are you trying to achieve? How content marketing will bring you closer to these goals?
Content marketing is all about defining your long-term goals, anticipating challenges, and allocating your resources effectively.
To develop and implement the right strategy, we have divided the process into the following simple steps:
Audit your existing content
There is an unfathomable amount of information available on the internet. So, if you are creating content with no exact knowledge of products, markets, or services, then it is less or more waste.
First of all, collect your existing content and analyze the data to understand its actual position. What kind of data attracts your audience and brings you the best results. It will help you understand how to improve it.
Set your goals
Your every piece of content should be organized and goal-oriented. Better make a hierarchy model keep your goals clear. Start with the overall mission and vision. Next, you can identify short-term and long-term goals. Prefer long-term goals over specific operational goals.
Make sure your content marketing goals should be in sync with the overall business goals.
Apart from that, the goals should be flexible enough to set realistic benchmarks. Your approach should be like this:
Set each goal like a challenge.
Define 3-4 key results by objective.
Measure every progress of your goal on a scale of 0-100.
Your goals should be transparent and collaborative.
Don't disappoint if a goal becomes irrelevant. Adjust it accordingly.
What's more important is to set a minimum threshold for achieving the goal. The progress indicators will help you analyze how attainable your goal is and what takes it to be done.
Determine your audience
Finding your audience, understanding their needs, and drawing them into your content is the key to success. Focus on their needs, lifestyle, concerns, and problems they phase.
One thing you need to understand is that not all audience is your buyer. The content you deliver should be capable enough to engage potential customers. Once they start their buyer's journey, content should illuminate their path and assist them while they are ready to take the action. It is all about drawing the audience into the universe of your brand.
Once you understand the problems of the prospect, you will be able to deliver the solution they need and the dream they envision.
An effective editorial plan
If you are already into content, you must have realized it by now. Nothing works without a plan. Planning allows you to allocate your resources appropriately and analyze which workflow works better than what takes longer than expected.
Split your work into 3 easy steps:
Prioritize your Actions :
It is the most crucial step of content planning. Once you prioritize your actions, you identify the most critical tasks and finish them accordingly.
Also, it will save your strategy from major fails and boost your results.
Find relevant Topics
Cover the topics that are of utmost interest to your audience. They not only help them progress through the customer journey but also keep them bound.
Use a good topic research tool to find ideas, questions, possible subtopics, and headers related to the topic. These tools will give you an idea of what your competitors are up to.
Use an editorial calendar to organize your work
Once you have determined the right topics and appropriate format, put everything on a content calendar to monitor progress and track upcoming deadlines.
Strategize content production
Every piece of content you create should have a purpose. It should assist the prospect in every step of the journey and ultimately, develop a long-term bond between the customer and your brand.
Use a diverse mix of content types to influence every member of your potential customer. Create visuals (infographics and slides), videos (live events, podcast, online conferences, and videos), interactive sessions (quiz and tests), texts (news, feedback, interview, recap, etc), and PDFs (checklist, white paper, manual, e-book, tutorial, etc).
35% of website traffic comes from organic search. That's why; search engine optimized content is very important.
Once you have published your content, you can repurpose it in some easy ways.
Turn them into slide representations.
Turn it into infographics or videos.
Create usable snippets for social media.
Segment it into shorter pieces.
Takeaway
Although the mode of delivering content and interacting with potential users is changing continuously, the core element remains the same. Develop a top-notch content marketing strategy based on real-time data to intrigue your buyers.
A consistent strategy will help your business evolve and grow.
For more on Digital Marketing keep visiting Digital Marketing Blogs
Please follow and like us: